Vandring i Världsarv - Information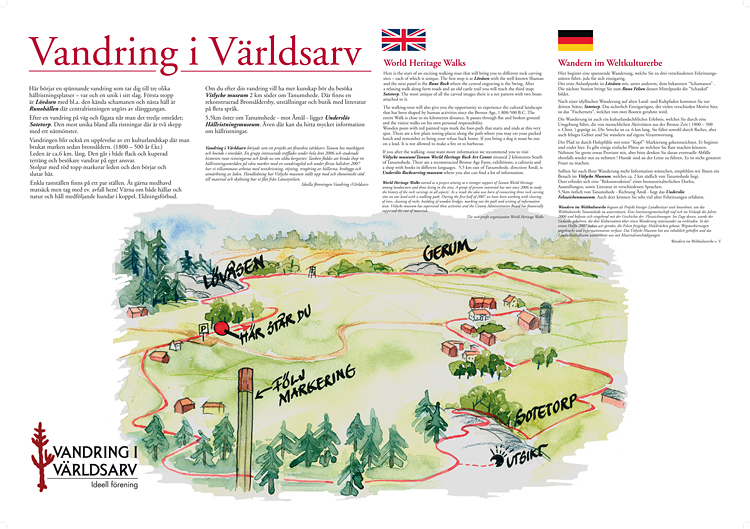 Vandringsled för Kulturupplevelse och Friskvård
Information

Här börjar en spännande vandring som tar dig till tre olika hällristningsplatser – var och en
unik i sitt slag. Första stopp är Lövåsen med bl.a. den kända schamanen och nästa häll är
Runohällen där centralristningen utgörs av slänggungan.
Efter en vandring på väg och fägata når man det tredje området; Sotetorp. Den mest unika bland alla ristningar där är två skepp med ett nätmönster. Vandringen blir också en upplevelse av ett kulturlandskap där man brukat marken sedan bronsåldern. (1800 – 500 år f.kr.)
Leden är ca.6km. lång. Den går i både flack och kuperad terräng och besökare vandrar på eget ansvar.
Stolpar med röd topp markerar leden och den börjar och slutar här.
Enkla rastställen finns på ett par ställen. Ät gärna medhavd matsäck men tag med ev. avfall hem!
Värna om både hällar och natur och håll medföljande hundar i koppel.
Om du efter din vandring vill ha mer kunskap bör du besöka Vitlycke museum 2 km söder om Tanumshede. Där finns en rekonstruerad Bronsåldersby, utställningar och butik med litteratur på flera språk.
English:
World Heritage Walks
Here is the start of an exciting walking-tour that will bring you to different rock carving sites – each of which is unique. The first stop is at Lövåsen with the well-known Shaman and the next panel is the Rune Rock where the central engraving is the Swing. After a relaxing walk along farm roads and an old cattle trail you will reach the third stop; Sotetorp. The most unique of all the carved images there is a net pattern with two boats attached to it.
The walking-tour will also give you the opportunity to experience the cultural landscape that has been shaped by human activities since the Bronze Age, 1.800-500 B.C. The entire Walk is close to six kilometres distance. It passes through flat and broken ground and the visitor walks on his own personal responsibility.
Wooden posts with red painted tops mark the foot-path that starts and ends at this very spot. There are a few plain resting-places along the path where you may eat your packed lunch and remember to bring your refuse back home. If you bring a dog it must be out on a lead. It is not allowed to make a fire or to barbecue.
If you after the walking -tour want more information we recommend you to visit Vitlycke museum/Tanum World Heritage Rock Art Center situated 2 kilometres South of Tanumshede. There are a reconstructed Bronze Age Farm, exhibitions, a cafeteria and a shop with books in different languages.
Deutsch:
Wandern im Weltkulturerbe
Hier beginnt eine spannende Wanderung, welche Sie zu drei verschiedenen Felsritzungsstätten führt; jede für sich einzigartig.
Der erste Anlaufpunkt ist Lövåsen mit, unter anderem, dem bekannten "Schmanen" .
Die nächste Station bringt Sie zum Runo Felsen dessen Mittelpunkt die "Schaukel" bildet.
Nach einer idyllischen Wanderung auf alten Land- und Kuhpfaden kommen Sie zur dritten Stätte; Sotetorp. Das sicherlich Einzigartigste, der vielen verschieden Motive hier, ist das "Fischernetz", welches von zwei Booten gerahmt wird.
Die Wanderung ist auch ein kulturlandschftliches Erlebnis, welches Sie durch eine Umgebung führt, die von menschlichen Aktivitäten aus der Bronze Zeit ( 1800 – 500 v. Chrst. ) geprägt ist. Die Strecke ist ca. 6 km lang. Sie führt sowohl durch flaches, aber auch felsiges Gebiet und Sie wandern auf eigene Verantwortung.
Der Pfad ist durch Holzpfähle mit roter "Kopf"-Markierung gekennzeichnet. Er beginnt und endet hier.