Vandring i Världsarv - Utsikten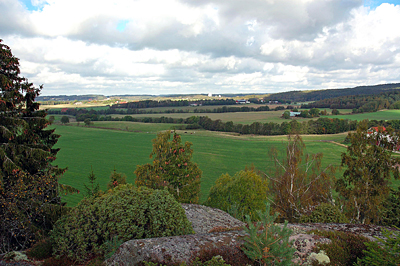 Utsikten
Härifrån ser man större delen av Världsarvsområdet.
Tanumslätten är ett enastående exempel på kontinuerlig mänsklig bosättning under åtta tusen år.
Sitt och njut en stund av utsikten och betänk att de som knackade in figurerna på hällarna nedanför troligen också har stått häruppe!
Härintill finns ett litet gravröse från bronsåldern som kan vara samtida med hällristningarna.
Leden fortsätter in i skogen
English:
Panoramic view
From this rock/hill top you get a very good view of almost the entire World Heritage property.
The Tanum' Plain is an extraordinary example of continuous human settlement and land-use extending over Eight thousand years.
Sit down for a while and try to visualize the fact that the persons that carved the images on the rocks down at the foot of this hill probably also were standing up here admiring the view of the landscape.
Close by here is a small burial cairn that can be dated to the Bronze Age and therefore probably coeval to the rock carvings.
The path now continues into the forest to the South.